Mission
---
Mission
About the Icelandic Meteorological Office
The Icelandic Meteorological Office (IMO) is a public institution under the auspices of the Ministry for the Environment and Natural Resources, historically based on the Icelandic Meteorological Office (1920) and the Icelandic Hydrological Survey (1948). The two institutions merged in 2009, with the responsibility of monitoring natural hazards in Iceland and conducting research in related fields, as well as participating in international monitoring and research. IMO has a staff of 130 people, of which 60 staff members work on research-related activities.
The main purpose of IMO is to contribute towards increased security and efficiency in society by:
Monitoring, analyzing, interpreting, informing, giving advice and counsel, providing warnings and forecasts and where possible, predicting natural processes and natural hazards;
issuing public and aviation alerts about impending natural hazards, such as volcanic ash, extreme weather and flooding;
conducting research on the physics of air, land and sea, specifically in the fields of meteorology, hydrology, glaciology, climatology, seismology and volcanology;
maintaining high quality service and efficiency in providing information in the interest of economy, of security affairs, of sustainable usage of natural resources and with regard to other needs of the public;
ensuring the accumulation and preservation of data and knowledge regarding the long-term development of natural processes such as climate, glacier changes, crustal movements and other environmental matters that fall under IMO's responsibility.
IMO's nationwide monitoring systems consist of 115 automatic and 100 manned weather stations, a network of 170 hydrological gauges in rivers, a 55-station seismic network (SIL) with automatic, real-time data acquisition and earthquake location, a continuous GPS (ISGPS) network of 70 stations, some with high sample rate, a 5-station borehole strain meter network is operated in southern Iceland, and a weather radar, which can also monitor volcanic plumes, is located in south-western Iceland. In addition, IMO conducts extensive manned monitoring of glacial rivers and sub-glacial floods (jökulhlaup), of glacier mass balance and margin positions and participates in nationwide GPS campaign measurements.
IMO has a long-term advisory role with the Icelandic Civil Protection and issues public alerts about impending natural hazards.
The institute participates in international weather and aviation alert systems, such as London Volcanic Ash Advisory Centre (VAAC), the Icelandic Aviation Oceanic Area Control Center (OAC Reykjavík) and the European alarm system for extreme weather, Meteoalarm.
IMO has participated in several European and Nordic funded research projects, having the role of lead partner in some of them. This includes for example the "Climate and Energy Systems" project, whose goal is to look at climate impacts closer in time and assess the development of the Nordic electricity system for the next 20-30 years.

The main research focus of IMO is on earthquake and volcanic processes and hazards, glacial studies, ice-volcano interaction and climate change. IMO also focuses on research in multiparameter geophysical monitoring to develop better forecasts of hazardous events.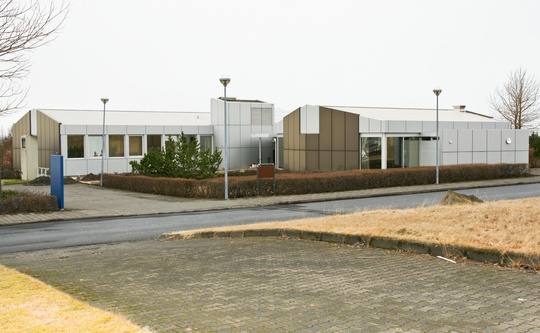 The reception of the Icelandic Meteorological Office at Bústaðavegur 7 in Reykjavík.