Articles
Bárðarbunga 2014 - updated information
Seismic events and volcanic activity from 1 November onwards
Update on the continued Bárðarbunga seismic events and volcanic activity is given here with daily notes, factsheets and observations in November. New material is added to the top of the article. Therefore, information day by day appears in reversed order. Bottom to top, this article gives an overview of events in November 2014.
Observations from October, from September, and August (onset) are in other comparable articles.

Calendar

Below is a calender with a short-cut to each day of this month's events:
Nov: 1-

Oct.: 31


Panoramic view towards the eruptive site in Holuhraun 3rd September 2014. Photo: Richard Yeo.
Updated information
1 November 2014 - number of earthquakes since the onset

NW Vatnajökull area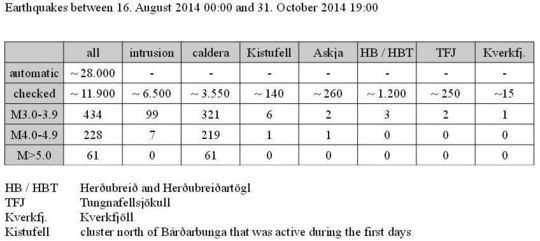 A new table (pdf 30 Kb) with the approximate number of events and the total number of events over M3 in size since the onset of the seismic events in northwestern Vatnajökull 16 August 2014. In ordinary circumstances only about 10,000 - 15,000 automatic events occur per year in Iceland. For comparison, an older table is available.

31 October 2014 - another article

Observations from the month of October are found in another comparable article.

31 October 2014 - an article in Nature
Nature, the international weekly journal of science, has published an article on these events, called Gas-spewing Icelandic volcano stuns scientist - sulphur rich eruption defies preparations for an ashy blast, by Alexandra Witze.

31 October 2014 12:00 - from the Scientific Advisory Board
Conditions at Bárðarbunga are unchanged regarding earthquakes, subsidence and gas pollution. The energy of the geothermal areas in Bárðarbunga is now few hundred megawatts and the melting of water is estimated around 2 cubic meters per second. The water goes into Skjálfandafljót og Jökulsá á Fjöllum. The flow is too small to effect the total water flow of the rivers.

Notes from the meeting of the Scientific Advisory Board (0.4 Mb)

31 October 2014 10:00 - from geoscientist on duty
Over 80 earthquakes have been observed in the Bárðarbunga area past 24 hours. The largest was of magnitude M5.3 at 01:30, the first over magnitude 5 since Tuesday. A few quakes were over magnitude M3. Also a few in the northern part of the intrusion.
Currently the eruption site is not visible on webcams due to poor visibility.
29 October 2014 - a flight report
In last month's article, there is an interesting flight report, describing scattered veils of gas.