---
The ice cap Snæfellsjökull is thinning rapidly
Local observations confirmed
Snæfellsjökull is a 12.5 km2 ice cap on the Snæfellsnes peninsula in western Iceland. It has been observed to retreat and thin rapidly in recent years according to people living in the neighbourhood of the glacier and travellers in the area, which is among the most popular tourists' destinations in Iceland.
By comparing airborne lidar measurements of the glacier surface, that were carried out in September 2008, with a digital terrain model by the mapping company Loftmyndir ehf from 1999, the average lowering of the ice surface over this nine year period is found to be 13 m, which amounts to 1,5 m per year on average.
The ice wastage is approximately twice as fast as indicated by mass balance measurements on the much larger ice caps Hofsjökull and Vatnajökull in central and southeastern Iceland during the same period, but similar as for the Langjökull ice cap in the western Icelandic highland.
The figures show the measured ice surface of Snæfellsjökull and the lowering of the surface since 1999. The lowering is greatest near the ice margin, more than 40 m in the areas of the greatest thinning, but least in the highest parts of the ice cap above 1200 m a.s.l., where the surface in 2008 is found to be approximately 5 m lower on average than in 1999.
Campaign since 2008

A measurement campaign to map the surface of glaciers in Iceland was started in 2008 as a part of the International Polar Years 2007-2009. The measurements will provide a reference against which future glacier variations can be judged. The project is organised by the Icelandic Meteorological Office (IMO), the Hydrological Survey of the National Energy Authority which has been merged with IMO in a new institution, and the Institute of Earth Sciences of the University of Iceland.
The measurements are carried out with the support of the Icelandic Centre for Research, the National Power Company, the Icelandic Road Administration, the National Land Survey of Iceland and Reykjavík Energy.
The ice caps Snæfellsjökull, Eiríksjökull and most of Hofsjökull were mapped in September 2008 by an airborne lidar operated by the German mapping company TopScan. Most of the Langjökull ice cap was mapped in 2007 by the same technology.
IMO's contact for this project is Tómas Jóhannesson.
A shading of the Snæfellsjökull ice cap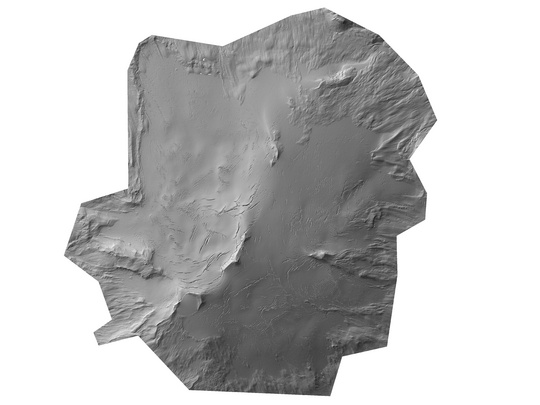 A shading of the measured surface of the Snæfellsjökull ice cap and its neighbourhood in September 2008. The glacier margin is clearly visible from a difference in the visual characteristics of the shading. Crevasses and nunataks can be seen on the ice cap surface while indications of the ice flow direction from a previous period, when the ice cap was larger, are notable outside the current margin.