Aviation weather
Aviation weather
Information and responsibility
Contrail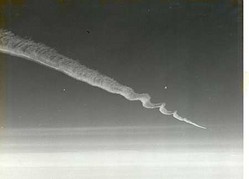 Contrail, condensation trail. Photographed at 33 thousand ft. south of Ingólfshöfði in October 2003. Photo: Snorri Snorrason.

The Icelandic Meteorological Office (IMO) has the formal role of Meteorological Watch Office.
This means that IMO is responsible for all weather related warnings and information for aviation over Iceland and Reykjavik FIR/CTA.
IMO issues SIGMET warnings whenever it is nessessary, makes aerodome forecast, TAF, for four airports every 3 hours and for six airports three times a day.
Three times a day IMO issues SIGWX for flight under FL150 and also a GAMET (only avalible in Icelandic).
On IMO's aviation pages are also published METeorological Aerodrome Reports (METAR) for all airports in Iceland.

Also available is information from WAFC, wind forecast in different flight levels over Iceland and images from weather radars and satellites among other things.
Simply clouds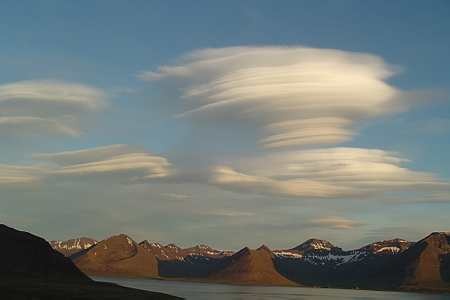 Dýrafjörður in the Westfjords, June 2008: Altocumulus lenticularis. Photo: Erna B. Antonsdóttir.