Instructions for aurora forecast
The spectacle of Aurora Borealis requires dark and partly clear skies.
IMO provides combined information on aurora activity, cloud cover, sunlight and moonlight, in order to provide aurora forecasts.
The map of Iceland shows forecast of cloud cover.  Green areas are cloudy and white clear skies. Move the slider below the cloud cover maps, or click directly on a day or time.
The upper-right box shows the forecast of auroral activity at midnight on the scale 0 to 9.  The scale changes in accordance with the date selected under the cloud cover map.
Aurora forecast shows expected activity at your selected date. Even grade 2 (low activity) can be beautiful and grade 3 (moderate) can be dazzling.
The timing of sunset, darkness, sunrise and moonrise are are valid for Reykjavík.
Flatey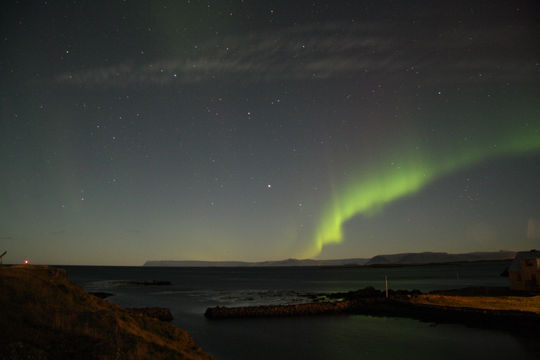 Aurora Borealis seen from the island Flatey in the bay of Breiðafjörður in West Iceland 23 September 2013 at 22:39. Brightness of stars slightly exaggerated due to long exposure. Photo: Þórður Arason.