Venue
Venue
Auditorium
The meeting will be held in the Ceremonial Hall of the main building (Aðalbygging) of the University of Iceland; see photos by Kristinn Ingvarsson. Coffee and snacks is served during breaks (included in registration fee).
For lunch
Lunch is not included in registration fee. Several lunch places are available on campus and at a nearby hotel.
Askja building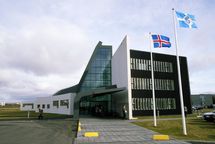 The icebreaker on Sunday, September 4th at 18 - 20, will take place in the Earth Science building Askja, located 5 min walk from the main building.
Poster sessions will also be held in the Askja building.
Conference material
Registrants will obtain conference material during the icebreaker on Sunday evening and before the start of sessions Monday morning. This includes badges, printed program and a USB-stick containing accepted abstracts and other relevant information.
Map of the University Campus (pdf 0.4 Mb) for download or printing is available.
An interactive map of the University grounds is also available. Zoom in and click on the red pegs; relevant information will appear, including the name of the buildings.
Internet connection
Free wi-fi will be available in the Ceremonial Hall.