ICEWIND
ICEWIND
Improved Forecast of Wind, Waves and Icing
Icing on the mast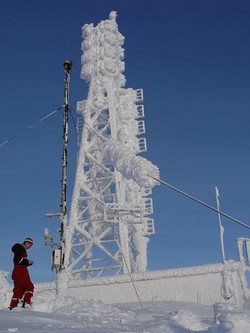 Skálafell, Esja, SW-Iceland, January 2005. Photo: Sigvaldi Árnason.
The IMO along with the University of Iceland, the National Power Company Landsvirkjun and the National Power Transmission Company Landsnet, participate in ICEWIND, a Nordic research project on wind energy in cold areas funded by the Top-Level Research (TRI) initiative. The project started in 2010 and runs until 2014.
Nordic partners include the Risø DTU National Laboratory for Sustainable Energy, the Norwegian Meteorological Institute, the University of Gotland, Statoil and the Technical Research Centre of Finland (VTT) along with many of the Nordic countries major wind energy companies.
The ICEWIND's main goal is to share knowledge between the Nordic countries and identify factors that delay or prevent the adopton of wind energy in the Nordic countries. In Iceland the main focus has been on establishment of atlases for wind and icing as well as integration of wind power with other energy sources. A wind atlas for Iceland created under the project can now be found on IMO's Icelandic web-site (English legend).
Ísvindar

Alongside the cooperative Nordic project, an ongoing Icelandic project ÍSVINDAR is run, where the goal is to conduct research on winds in Iceland under extreme conditions and events.
The IMO's cooperative partners in the Icelandic project are the National Power Company, National Energy Authority, University of Iceland and the Westfjords Electricity Production.