SVALI
SVALI
Stability and Variations of Arctic Land Ice
Since 2010, the IMO and the Institute of Earth Sciences at the University of Iceland, have participated in the Nordic glaciological research project SVALI - Stability and Variations of Arctic Land Ice.
The project is part of the Top-level Research Initiative (TRI) and runs until 2015. All major institutions and universities in the Nordic countries with active glaciological research take part in in the project.
Glacier cauldron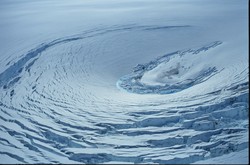 The western cauldron in Vatnajökull ice cap on 19 August 2000, shortly after jökulhlaup in river Skaftá which originated in the cauldron. Photo: Oddur Sigurðsson.
The SVALI project examines the complex effects of climate change on the Arctic environment, especially as glaciers, ice and snow. The projects main research questions are as follows:

How fast is land ice volume in the Arctic and North-Atlantic area changing, and why?
Will these processes continue to accelerate?

What are the consequences for sea-level and ocean circulation?
What are the implications for society?
The project is currently founding one doctoral and two post-doctoral positions at the IMO and at the Institute of Earth Sciences at the University of Iceland.
As part of the SVALI project a report on airborne laser measurements of glaciers in Scandinavia was released in 2012.