Articles
---
Photos from Eyjafjallajökull
Ever changing ash cloud
Eyjafjallajökull
The ash cloud is ever changing in form and colour. The form is dependent on the eruption intensity but also on the stability of the surrounding atmosphere. Unstable conditions favour an unsteady plume, even looping, but during high stability acessory clouds (velum and pileus) tend to acompany the plume, which then forms a billowing sheet downwind.
The darkness of the plume is to some degree dependent on the ash concentration and the entrainment of ambient air. But the colour is even more influenced by the surrounding light conditions, the strength of sunshine, the angle of the sun, the brightness contrast between the ash cloud and the surrounding skies as well as the composition of the volcanic haze that tends to accompany the eruption.
Ólafur Sigurjónsson, who lives in Forsæti not far from the eruption, does frequent flights over Eyjafjallajökull and has allowed the Icelandic Meteorological Office to present his photographs on IMO's web-site.
The photo above (right) is taken on Friday evening, 7 May 2010, and shows the surface of the dark ash cloud clearly; also it's deflection after a certain hight is reached. Under the plume are ordinary clouds, far above are cirrus clouds.
The photo below is taken three hours later, at nine o'clock. The difference in colour, now brownish, is an artefact of sunlight only: the rays of the sun are much lower and the angle of view is different and sunlight is dispersed.
The last photo is taken about twelve hours after that or on Saturday morning, facing west at 10,000 ft (3,3 km). Note the brownish veil across the horizon, undoubtedly the dispersed remains of ash.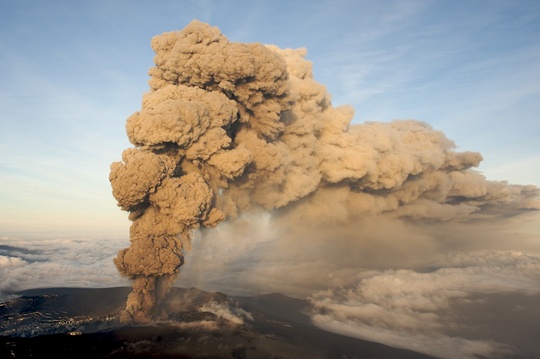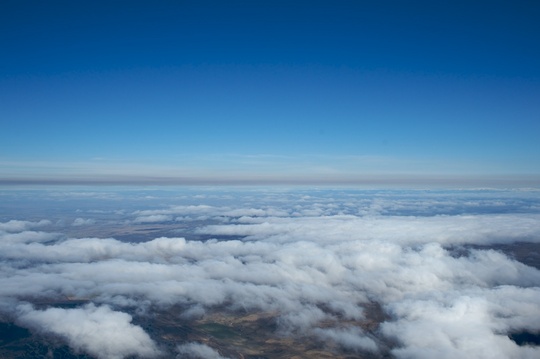 Such ash veils can vary in colour from whitish through yellowish to brown, whereas droplets (derived from sulphur) would give a blue tone - rarely seen in this eruption.
While ongoing, updated information on the eruption in Eyjafjallajökull is available through links in red on IMO's front page (see top).
Fimmvörðuháls
Previous eruption, at Fimmvörðuháls nearby, was described in an article in March; supported by some very good photographs from Ólafur Sigurjónsson.