Measuring glaciers
Measuring glaciers
The glaciers in Iceland have changed immensely in historic time, in particular in most recent decades, as the decrease amounts to approximately 0,3-0,5% every year.
In an expedition twice a year, spring and autumn, scientists of the IMO keep track of the development of Hofsjökull and Drangajökull, measuring precipitation, ablation and ice-slide.
Similar projects were launched jointly with the Institute of Earth Science of the University of Iceland, in 2008, aiming at the mapping of the surface of the largest glaciers using laser technology from airplane. The project is endorsed by the Icelandic Polar Year Commission. It set out in September 2008, comprising Hofsjökull, Mýrdalsjökull, Eyjafjallajökull, Eiríksjökull and Snæfellsjökull.
The outlines of Icelandic glaciers have been registered, using maps, aerial photographs and satellite images. The data has been released, e.g. by World Glacier Monitoring Service in Zürich and Global Land Ice Measurements from Space (GLIMS) in Flagstaff, Arizona.
Bird's eye view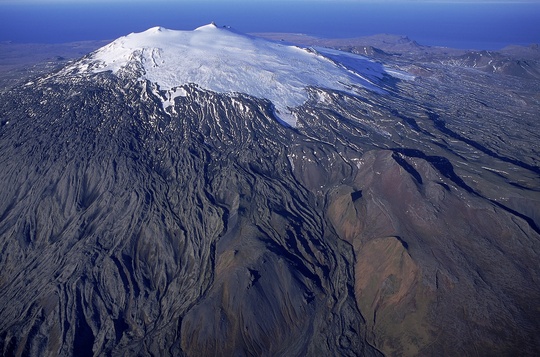 Snæfellsjökull, western Iceland, 18 October 2001. At that time, the ice-cap had already been observed to retreat and thin in the preceding years and decades, as confirmed by annual measurements in a single location since 1931. This was further confirmed
by extensive measurements
in 2008 and the changes have been rapid this century. Snæfellsjökull is not expected to last for long. Conspicuous volcanic formations can be seen on the hillside. The last eruption occurred about 1,750 years ago. The view is towards north. Photo: Oddur Sigurðsson.