News
---
Glacial outburst flood in Múlakvísl
Glacial outburst flood in Múlakvísl is ongoing. Electrical conductivity is now measured around 580µS/cm and has increased rapidly the last hour.
Conductivity is an indicator for the amount of geothermal meltwater in the river. Prior to glacial river surges in the river Múlakvísl conductivity in the river starts rising. This elevation of conductivity can last several days before an actual river surge starts.
The glacial outburst flood can be expected to reach its maximum within a few hours. People are advised to stay away from the river due to gas pollution, the river is showing a dark colour and smells of sulphur. The Department of Civil Protection of the National Police has been alerted and Road Administration is on the site and prepared to close the main road if needed.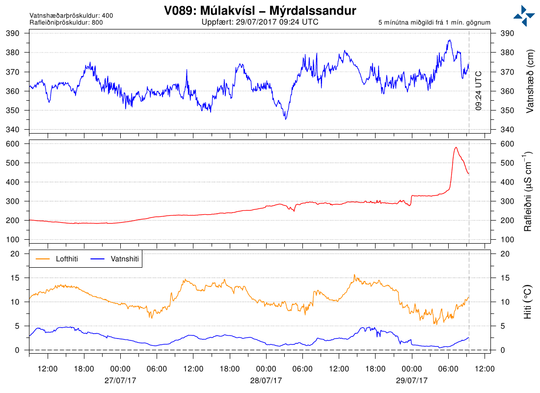 Conductivity in Múlakvísl river 27-29 July 2017.