News
No changes in activity seen at Grímsvötn
Since the beginning of the year around 10-30 earthquakes detected each month at Grímsvötn
The annual Icelandic Glaciological Society (Jörfí) spring trip which is a major maintenance and measurement trip for IMO and the University of Iceland (HÍ) was completed in the first week of June. On the trip were staff from these offices as well as other research institutes and volunteers from Jörfí and Icelandic Search and Rescue. The continuous seismic and GPS stations were visited and repaired and replaced as needed and measurements of smaller earthquakes than are usually detected by the seismic network were made in the Grímsvötn caldera. A new sign has been put up in the hut at Grímsfjall in case people visiting Grímsfjall need to leave in case of eruption onset and instructions about what to do in case of earthquakes.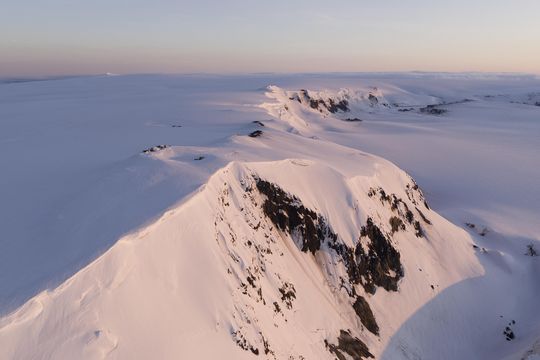 Photo of Grímsfjall and Grímsvötn. (Photo: Kieran Baxter). 
Gas measurements have been made in previous years near the 2011 eruption site, but this year the area was inaccessible due to crevassing. The continuous gas monitoring station at Saltarinn continues to show no changes in the gases there.  
Since the beginning of the year around 10 to 30 earthquakes (> M1.0) have been detected each month in Grímsvötn. The end of April – the beginning of May were the most active periods with the largest earthquake of this year so far was a M3.3 on the 23. April. Since the middle of May the seismic activity has decreased. 
Further information on Grímsvötn volcano is available in the Catalogue of Icelandic Volcanoes.