News
---
No visible changes in geothermal activity around Askja and Víti
A group of scientists went to Askja to investigate the conditions. The collected data will be processed soon
The field trip conducted by a team from IMO last week has been completed succesfully. Dr. Melissa Anne Pfeffer and Dr. Michelle Parks visited the area with the main objectives of making observations, interacting with the park rangers and other scientists, measuring gases, collecting gas and water samples, measuring T and pH in Víti and lake Askja, downloading data from the GPS station OLAC located in the caldera and assisiting with campaign GPS and levelling measurements.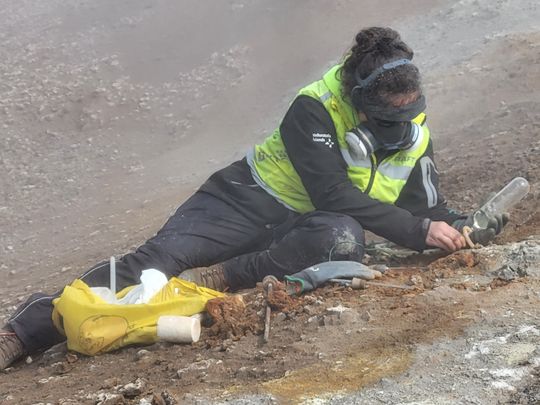 Here you see Dr. Melissa A. Pfeffer take gas samples from a geothermal area east of Bátshraun. Photo: Michelle Parks/IMO.
Preliminary results indicate no changes in the gases or waters compared to previous years while further sample and data analyses are ongoing. Visual inspections and temperature and pH measurements do not point to any clear changes in geothermal activity around Askja including in Víti. The observation on 12 August at the edge of Bátnshraun which was reported as a possible steam plume is now recognized as dust caused by a minor rock fall on a steep slope of the caldera wall.

Seasonal deformation fieldwork was also undertaken at Askja volcano. Last week´s work was led by Prof. Erik Sturkell (University of Gothenburg) and this week this work will continue led by Prof. Freysteinn Sigmundsson (UI) in collaboration with IMO. Five campaign GPS stations have so far been setup at various locations within the caldera and levelling measurements undertaken in the vicinity of the 1961 lava field and the 1921 Bátshraun lava field. Levelling results indicate no change in the location of the inflation source since the last measurements in August 2022 in agreement with the cGPS and inSAR analyses. This deformation fieldwork was funded by the ISVOLC project, a Grant of Excellence project funded by the Icelandic Research Fund (Rannsóknasjóður), grant number 239615-051, led by Michelle Parks (IMO) and Freysteinn Sigmundsson (UI).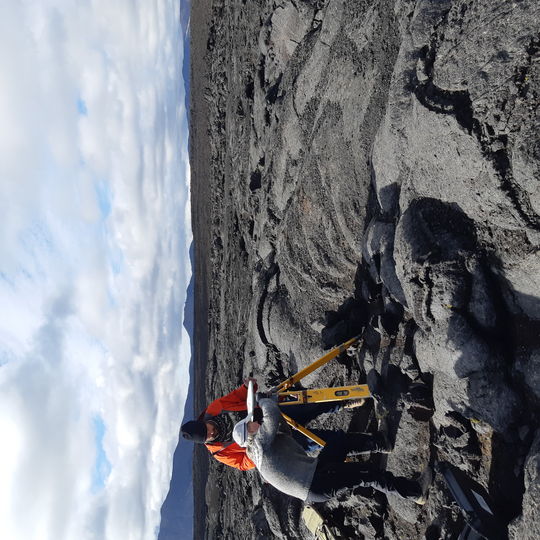 One the picture Dr. Michelle M. Parks works on GPS measurements with Prof. Erik Sturkell. Photo: Melissa Pfeffer/IMO.