News
---
Glaciologists meet in Iceland
Scientists and students share their research and latest findings
The Icelandic Meteorological Office, the Institute of Earth Sciences, University of Iceland, and the International Glaciological Society (IGS) hosted the third IGS Nordic Branch Meeting held in Iceland in Reykholt last week. Scientists and students in glaciology and related topics presented their research results in the historical building of Reykholtsskóli. Most presentations were about glacier mapping, glacier geomorphology and glacier dynamics but outreach efforts about glaciers and discussions about glacier changes in a wider societal context were also on the agenda.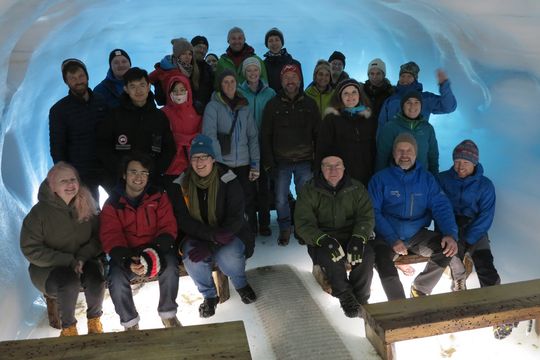 Participants visited the geothermal baths of Krauma and the 500 m long man-made ice tunnel in Langjökull ice cap, pictured above. (Photo: IMO)

A 2-day beginner Elmer/Ice course took place in Reykjavík prior to the Nordic Branch meeting, for researchers and students aiming to start working with Elmer/Ice. The course was sponsored by the University of Iceland, the Icelandic Meteorological Office, CSC-IT Center for Science and Institute of Environmental Geoscience in Grenoble. We thank everyone who joined us in Iceland this time, and the sponsors, the National Power Company, the Icelandic Road and Coastal Administration, and Friends of Vatnajökull.