News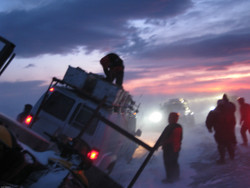 Mountain jeeps temporarily stranded by blizzard on Tungnaárjökull glacier in high wind-speeds 10th October 2009.
---
Strong gales
Winter wind-speeds already
A great storm passed over Iceland on Friday night, October 9th, lasting well into Saturday morning.
Wind speeds measuring 20 m/s and higher were recorded at half of the automatic weather stations in the lowland areas and similar speeds were recorded at 80% of automatic weather stations in the highland areas.
In the town of Heimaey in the Westman Islands, wind-speed* of 28 m/s and gusts measuring 45.8 m/s were recorded at the height of the storm, setting new wind records since automatic measurements began in town in 2002.
At Stórhöfði, the famous synoptic weather station located on Heimaey island's southern tip, the automatic weather station recorded wind-speed* of 44.6 m/s and gusts of 52.7 m/s, the highest since it was set up in 2004. However, that time-span is short compared to 90 years of manned observation at Stórhöfði.
New records were also set here at the IMO website during the course of the storm as both visitor hits and user hits peaked to unprecedented levels.
* ten minutes average wind speed