News
---
Ongoing eruption
The plume from the eruption in Eyjafjallajökull volcano is still ongoing, reaching hights of 4 to 5 kilometers, occasionally reaching higher altitudes.
The plume drifts with north-westerly winds reaching Europe. It has been detected over Norway, Sweden, northwestern Russia, northern Poland, northern Germany, northern France and southern UK .
There is no indication that the ash from the volcano is decreasing and it is predicted that high-level winds will stay north-westerly today.
For older news, click 2010.
Flow east of Gígjökull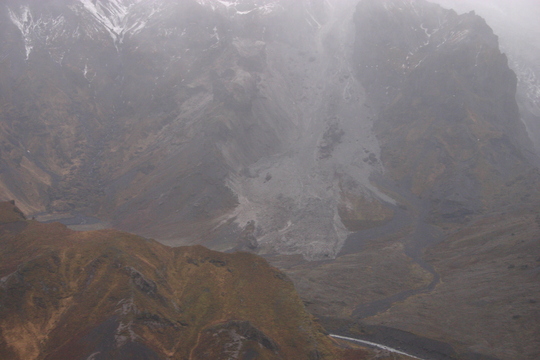 Water, mud, ash and debris flowing from hillside east of Gígjökull glacier, 15 April 2010 at 19:17. The glacier can be seen in the upper right hand corner of the photograph. Photo: Matthew J. Roberts.