News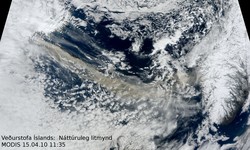 The ash cloud is seen as grey brown plume extending from Iceland to the coast of Norway, 15 April 2010.
---
Ash cloud extending to Europe
A volcanic ash cloud emanating from Eyjafjallajökull, Iceland extending to Norway and into Europe can be seen in a satellite image sequence produced at the Icelandic Meteorological Office using data from Eumetsat satellites.
The ash is shown in orange-yellow colours, the black colour indicates the presence of thick water ice clouds, unrelated to the eruption. The ash is often obscured by other clouds so a lack on orange colour in the plume does not indicate an absence of ash. The image sequence shows the ash reaching the coast of Norway at around 11 am, Thursday April 15th, and continuing to move south eastwards into the North Sea.
Since the eruption started on Wednesday, strong westerly winds aloft have blown the volcanic ash towards Northern Europe. Continuing strong westerlies aloft are forecast for the weekend.
Those who want to follow the areas, within which aviation authorities consider the ash cloud to be an hazard to aviation, are advised to examine the homepage of the Volcano Advisory Centre in London. Click on the link "Issued graphics" above the map, and choose the most recent map.
For more news, click 2010.