News
---
Magma splatters ejected
No lava flow detected yet
At 04 o'clock this morning, seismic tremors indicated that lava flow might have begun in Eyjafjallajökull.
At 08:50 the ash cloud reached a hight of 4 km, which is less than in recent days. This would suggest that water inflow at the crater is decreasing and that the ash producing phase of this eruption (see photos) is giving way to a phase of lava flow.
The Icelandic Coast Guard flew this morning (19 April) over the site and observed, at 10:30, magma splatters thrown 1.5 - 3 km into the air by explosions in the crater. No photos are available of this phenomenon at IMO yet.
Magma splatters have have accumulated on the crater's rim. Splatters of magma have also fallen on the ice around the crater and this gives rise to steam plumes.
In spite of the ejected batches of liquid magma, no lava flow from the craters was detected. South of the eruptive site, the ash clouds reached 5-6 km hight.
Eyjafjallajökull ash cloud - two days ago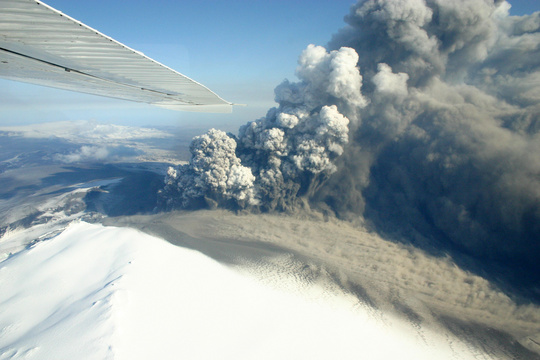 Eyjafjallajökull ash cloud 17 April 2010. Flight with the Icelandic Coast Guards. Photo: Matthew J. Roberts. This phase of the eruption is declining.