News
---
An ice surge at Jökulsá á Fjöllum
An ice surge is occurring on Jökulsá á Fjöllum at Grímsstaðir (see map). The ice that had formed on the banks and the surface of the river has broken into many fragments.
Cold weather conditions and low river discharge have resulted in the formation of river ice and slush. A mixture of ice and slush extends for several kilometres upstream and downstream from Grímsstaðir. This is probably the largest ice jam in the river since December 2010. The flow is moving slowly beneath the bridge at Grímsstaðir, where water is beginning to accumulate to the west of the bridge.

These photographs are taken on Sunday 18 January 2015 by Bragi Benediktsson who lives at Grímsstaðir. Now, two days later, water is beginning to seep over the main road west of the bridge. Additionally, see a panoramic photo (20.1.2015) provided by Njáll Fannar Reynisson, IMO, as well as two series from 21 January; a photo gallery from the bridge and aerial photos from a surveillance flight.

As the break-up of snow and ice continues, it is possible that water could continue to leak across the road. If the discharge of Jökulsá á Fjöllum increases due to snow-melt or rainfall, then the level of flooding could be greater.
The Institute of Earth Sciences has processed a satellite image of Jökulsá á Fjöllum, showing the extent of the ice-jam in the river on 17 January 2015. The image is a radar view from the Sentinel 1 satellite of ESA; the jam shows up in pink along the river channel. Ice extends about 2 km south of the bridge, as well as reaching over 12 km northwards. Yet another satellite image was received 11 Feb 2015 which shows the northern part of the ice surge.

Ice on the move

Running water carries ice fragments slowly down river. Photo: Bragi Benediktsson, Grímsstaðir.

Lonely guard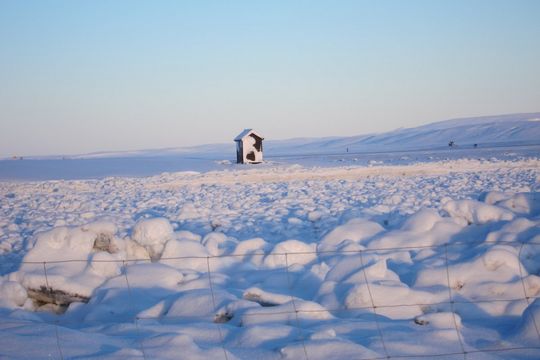 Water level measurements, Jökulsá á Fjöllum. Photo: Bragi Benediktsson, Grímsstaðir.