News
---
Intense rainfall - possible floods and flows
Extreme conditions over the weekend which occur only every few years
Intense rainfall and mild, windy conditions are forecast from midday on Friday 13 March, persisting until Sunday 15 March. A weather warning was issued yesterday (pdf 0.1 Mb).

The most intense rainfall is expected in the south and south-east of the country, especially around Mýrdalsjökull and south of Vatnajökull, as well as nearby mountainous areas. In these regions, the combined effects of rainfall and snow-melt will produce the 24-hour equivalent of over 250 mm of run-off. By Saturday, rising river levels are expected throughout the south of the country.
The severity of the weather and the resulting floods must be kept in mind when making travel plans for the coming weekend.
Rapid melting of recently fallen snow could result in river and stream floods, slush flows, and, possibly, mud flows. Such extreme conditions occur every few years, so special care must be taken to avoid possible hazards.


Accumulated runoff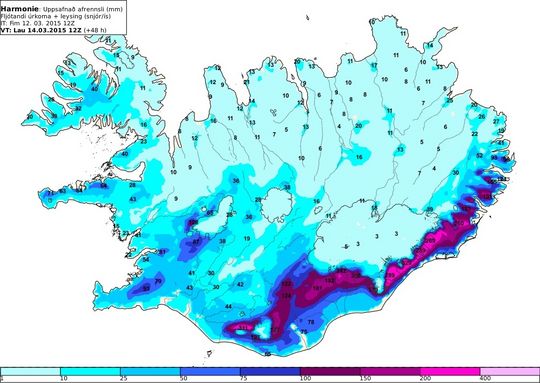 Accumulated runoff (precipitation and melt water) in millimeters from noon Thursday 12 March 2015 until noon Saturday 14 March. Please note that this forecast is only for those 48 hours and that runoff will increase and continue on Sunday.
Enlarge
. Please note that conditions will worsen AFTER the validity time of this map. Another map will follow today.
Hydrology group: Svava Björk Þorláksdóttir, Gunnar Sigurðsson, Matthew J. Roberts.

Meteorologists on duty: Birta Líf Kristinsdóttir, Elín Björk Jónasdóttir, Björn Sævar Einarsson.