News
---
The solar eclipse 20 March
Thrilling event but dangerous to eye sight
Tomorrow morning, Friday 20 March 2015, an almost total solar eclipse will be seen from Iceland, such as has not been seen for 61 years. And it so happens, that this time, it will occur on equinox.

Clouds may impede the view. Check IMO's cloud cover forecasts, where white means clear skies, and adjust the scale underneath the map for correct timing (roughly between 08:30 and 10:40). The tabs above the map will show more selective forecasts for low, high or middle clouds.
Many international websites will have information on this particular event, including Wikipedia.

People are strongly advised against looking at the sun without proper precaution. Even a glimpse towards the sun might cause irretrievable damage to the eyes.

Now, the scientist below are not handling the moon itself but ...

A sonde to be released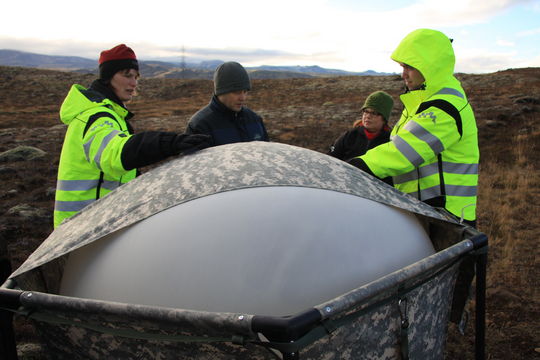 This photo shows IMO's staff preparing to release a sonde at Hólmsheiði 22.10.2013. The equipment suspended by the balloon measures temperature, moisture, wind and air pressure. Photo: Þórður Arason.
Tomorrow, at around 8:45, a sonde will be released at IMO's headquarters in Bústaðavegur 9 (on a lawn near the monitoring field) which will have an additional solar radiation sensor from
Reading University
who intend to collect prolific weather data from the public as well as professionals that day. This exercise in Iceland is partly meant to check how the solar eclipse affects UV-radiation, total radiation and ambient temperature.