News
---
Mains transformer upgraded
One long day with slight risk of disruption
Tomorrow, Wednesday 3 June 2015, Reykjavík Energy will upgrade the transformer of the mains for Bústaðavegur 7, Bústaðavegur 9 and Útskálar buildings, which will run on diesel generators' electricity meanwhile.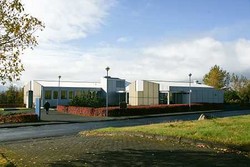 IMO's headquarters, 7 Bústaðavegur.

This upgrade will start at 8 o'clock and the work can take up to 10 hours.
An effort will be made to prevent any disruption to IMO's services.