News
---
Earthquake swarm diminished and AVCC code lowered
No magma movements in the shallow crust
IMO has lowered the aviation colour code at Eldey volcano from yellow to green.
The seismic swarm, which began on 30 June near Geirfuglasker on the Reykjanes ridge, has significantly diminished in intensity. Further seismic data analysis has revealed that there are no direct signs of magma movements in the shallow crust. Water samples collected on 1 July do not show any spatial anomalies in pH or electric conductivity around the area of the seismic swarm.
Earthquake swarms are common on the Reykjanes ridge and the recent swarm was strong by magnitudes and number of events. The region will continue to be monitored closely as increased seismic activity compared to monthly means can be expected for some more weeks following the strongest main shocks of this series.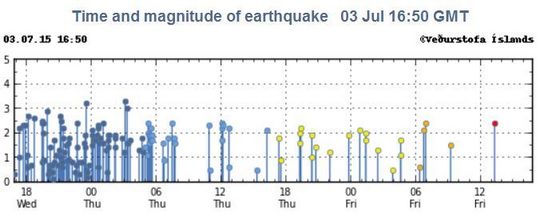 The earthquake swarm on the Reykjanes ridge 1 - 3 July 2015, preliminary results, (see update on web).