News
---
Warning due to violent storm
Hurricane force winds in the East
Far to the south of Iceland is a 958 mb rapidly deepening low, fast moving to the north. Barometer falling to about 934 mb when the low approaches the southeast coast soon after midnight and 933 mb in the northeast at 7:00 UTC tomorrow morning. Then the low continues to the north and the weather moderates.

Brief forecast for the evening and the night

Southeast 8 - 15 m/s or patchy sleet or snow, but mainly dry in the northeastern parts. Temperatures around zero. Rapidly increasing east- and northeast winds during the evening, 18 - 23 in places by midnight, but 23 - 28 and severe rain or sleet in the southeast- and eastern parts. South 25 - 33 m/s in the east parts late tonight and during morning, windiest in the easternmost parts. Veering southwest 15 - 25 tomorrow, strongest in the north. Rain or sleet, later becoming showery. Temperatures mostly 0 to 5 °C.

Warning
Violent storms to hurricane force winds are forecast in the east parts tonight and during the morning, first in the southeastern parts.

A more detailed forecast

Increasing winds by evening, east strong gale or whole gale (20 - 27 m/s). Becoming southerly later tonight, possibly reaching hurricane force or about 33 m/s in the East-fjords area. Moderating northeast and later north winds in the western parts. Precipitation mostly rain, moderate intensity in the southeast and east parts. Patchy rain or sleet in other parts.
Tomorrow morning turning southwest 18 - 25 with showers of rain or snow, gradually moderating and becoming cooler.
In these high winds, low barometric pressure and tides (high tides after midnight in the east parts), one can expect a high sea state so that boat owners should secure their boats. Also, the public is advised to fasten objects outside, that could be displaced by the wind.
Windier in 100 m height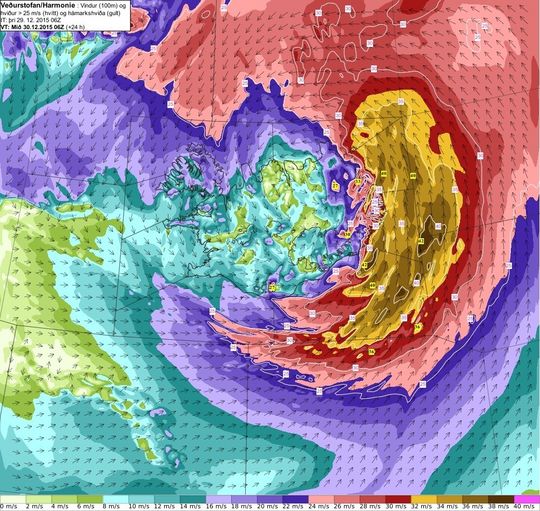 Average wind
100 m above MSL
(medium sea level) forecast for Wednesday 30th December 2015 at 06:00 UTC. Red, yellow-brown and pink colours show the most dangerous winds.
Enlarge
.
29.10.2015 at 11:00
Meteorologists on duty:
Elín Björk Jónasdóttir
Teitur Arason
Haraldur Eiríksson
Þorsteinn V. Jónsson