News
---
Supercomputer in Iceland
DMI - IMO partnership
A new and highly effective supercomputer is up and running at Bústaðavegur 7 in Reykjavík.
In order to fulfill environmental requirements, the Danish Meteorological Institute (DMI) approached the Icelandic Meteorological Office (IMO) in 2013 for a cooperation in operating a supercomputer (HPC). A year later a contract was signed, and now the supercomputer is in full operation, located at IMO's premises.
The meteorological cooperation between Denmark and Iceland goes back to the founding of IMO in 1920, when IMO assumed the responsibility for weather observations in Iceland and later began weather forecasting. The cooperation on the supercomputer is based on a long term, consistent relationship. DMI owns and runs the supercomputer while IMO operates the site infrastructure and the costs are shared.
The latest developments in numerical weather prediction models are used to create better forecasts covering Iceland, the Icelandic waters and a part of Greenland. The partners are going to work together on climate studies, Arctic studies, development and operation of the Harmonie model and other topics of mutual interest. The cooperation allows for new research opportunities, as well as further development of Nordic and International collaboration.
In order to be able to accommodate the supercomputer at IMO's site, the infrastructure had to be upgraded, i.e. the uninterruptible power supply (UPS), the diesel generator and the cooling system. A very ambitious cost- and project plan had to be held with strenuous uptime requirements for the existing IMO systems. The final step of the project was the operational shutdown of DMI's older supercomputer in Copenhagen in March 2016 with good results on all accounts.
The inauguration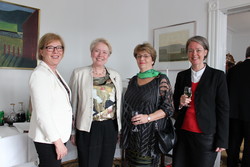 The inauguration of the supercomputer in Iceland took place 28th April 2016, see photo galleries (1-5). Expand the webpage (five plus signs) to see relevant photos.
After the reception (1), the chambers were explored (2). Then lectures (3) were given in English (recording available) and finally a celebration took place (4). Then a reception was given at the Danish Embassy (5).
At the Danish Embassy, from left to right: Acting Dir. General of IMO Hafdís Þóra Karlsdóttir, the Danish Ambassador Mette Kjuel Nielsen, the Minister for the Environment Sigrún Magnúsdóttir and Dir. General of DMI, Marianne Thyrring. Photographer: Bjarne Keinicke.
Facts
The partnership
Partnership centered around making use of each other's competences
The supercomputer is acquired by DMI and is installed at IMO
Operations obligations are diveded among parties, so that:
DMI operates the supercomputer from remote
IMO operates the site infrastructure
IMO acts as "remote hands and eyes" on behalf of DMI
DMI deliveres forecast data to IMO
The partnership is a stepping stone towards a potential joint Nordic meteorological supercomputer
The supercomputer
Super computer installed in two phases: ultimo 2015 and ultimo 2017
Each phase consisting of two liquid cooled Cray XC systems
1st phase: two XC30 systems totaling ~200 teraflops with each XC30 having 280 "high performance" compute nodes and 16 "general purpose" compute nodes
Each phase has access to 1500 terabytes of shared high performance storage
Total power consumption is below 300 Kw
The infrastructure
The site has capacity for a supercomputer consuming up to 400 Kw
Power feeds are redundant all throughout
UPS (Uninterruptible Power Supply) and emergency diesel engine in place to keep infrastructure and supercomputer running even during a prolonged power outage
Due to the supercomputer-friendly climate of Iceland, the potential for free cooling almost entirely eliminates the use of mechanical cooling
The network
Communication uses the national research networks
Redundancy and alternate paths for the entire route between DMI and IMO
Network bandwidth of 10 Gbps and network latency of 32 ms
Bandwidth is sufficient for projected future use and latency is not a problem for bulk data transfers