News
---
Seismic swarm east of Grímsey on the decline
The seismic swarm east of Grímsey has been on the decline for the last days. Substantial seismic activity is however still ongoing with small swarms occurring, including up to magnitude M3 earthquakes. This night, February 23, two magnitude M2.8 earthquakes where detected about 13 km north of Grímsey. There is always the possibility for the activity to escalate again although the most likely scenario is that over the course of a few days or weeks the activity will slowly diminish.
Yesterday morning, February 22, an earthquake of magnitude M3.6 was detected in Öxarfjörður basin, about 15 km WSW of the village of Kópasker. The earthquake was felt in Svarfaðardalur, around 90 km from the epicenter. It was followed by an aftershock sequence including a magnitude 2.9 earthquake. This new swarm occurred about 60 km south-east of the Grímsey swarm and is also on the Grímsey Oblique Rift zone (GOR). The M3.6 earthquake in Öxarfjörður had left-lateral strike slip focal mechanism while the ~ M5 earthquakes close to Grímsey were predominantly normal faulting events. Swarms in Öxarfjörður are relatively common.
See also map of seismic swarm in January 2016.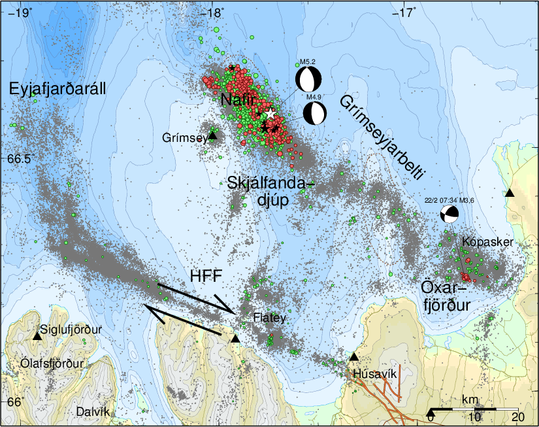 The red dots on the figure show earthquakes since February 20th; the green dots are since early January 2018.