News
---
The uplift in Askja has slowed down
No deformation measured at several stations since the end of August
On Friday last week, a scientific meeting was held at the Icelandic Meteorological Office in the presence of IMO specialists, scientists from University of Iceland- Earth Science Department and representatives from the Civil Protection.
There is evidence of recent changes in the deformation data (cGNSS) around Askja. The deformation rate has decreased since the beginning of August and the signal has flattened at several stations within or around the caldera. At this stage it is uncertain what process is causing this pressure reduction, possibly the source of the inflation has been shut off or it could be related to an outflow of magmatic fluids.
Over the same time period, the seismic activity in the area has not been increasing and there is no evidence of unusual geothermal activity.
Regular geodetic measurements around Askja have showed historic periods of subsidence and a period of uplift which did not result in an eruption. IMO continues monitoring the area which is still in Uncertainty level. The latest data needs to be modelled and interpreted to understand what process is responsible for this recent change. A new seismic station was also installed last week (west of Askja) for improving earthquake relocations.
Outcomes of field campaigns this summer showed no indications of increased activity
The available data at the end of August 2023, which includes the results of the geochemical field campaign data collected in the summer, confirmed that at that time (August 2023), there was no increase in the geothermal activity within Askja nor any evidence of magma becoming shallower.
It is quite a challenge to maintain monitoring equipment during the wintertime, but Askja will be visited to install additional instrumentation, i.e. cameras and thermocouples.
A new update will be provided in a months time, if there are no prior changes in the activity at Askja.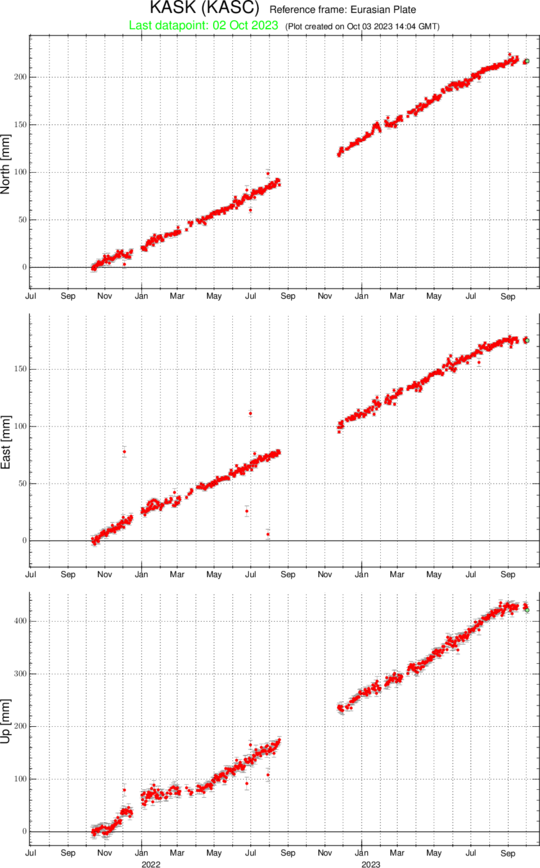 The plot shows the cGNSS data from the station KASC located within Askja caldera. The time series shows the trend of the deformation since November 2022 in the North, East and Up components, and the green dot shows the latest measurement acquired.