News
---
Joining forces in weather forecasting and climate research
The National Weather Services of Denmark, Iceland, Ireland and The Netherlands are joining forces to jointly operate a new supercomputer and to bring significant advancements to short-term weather forecasting services.
This is a sound response to the need for society preparedness in view of the effects of a changing climate. Earlier this year, the Intergovernmental Panel on Climate Change (IPCC) described the unprecedented changes to the global climate as a ' code red for humanity '. We are experiencing more extreme weather patterns due to a warmer global climate, and with global temperatures projected to increase further over the next decades, weather patterns are expected to become more extreme and more challenging to forecast.
The collaboration between the four national weather services, which responds to the name United Weather Centres – West, will allow more timely and accurate weather warnings to help protect and prepare each nation from the impacts of increasingly extreme weather events.
As well as taking short-term weather forecasting to the next level, the new multimillion High-Performance Computer built by Hewlett Packard Enterprise (HPE) will be used to advance climate science research, supporting our Governments' and businesses with long-term decisions and policymaking as we continue to prepare for and mitigate the impacts of climate change.
Planned to be operational by early 2023, the new supercomputer will provide high-resolution weather forecasts that will be used to:
Provide more accurate and timely weather warnings that will allow our emergency services to prepare for potential impacts of severe weather;
Help people and communities make better decisions to protect lives, homes and businesses when hit by extreme weather events such as heatwaves, flooding or heavy snowfalls;
Allow the agricultural sector to make earlier decisions to protect and better manage their crops and livestock;
Provide more timely and focused information to marine communities;
Support the transport and energy sectors with more detailed and timely weather information to allow increased economic and environmental benefits.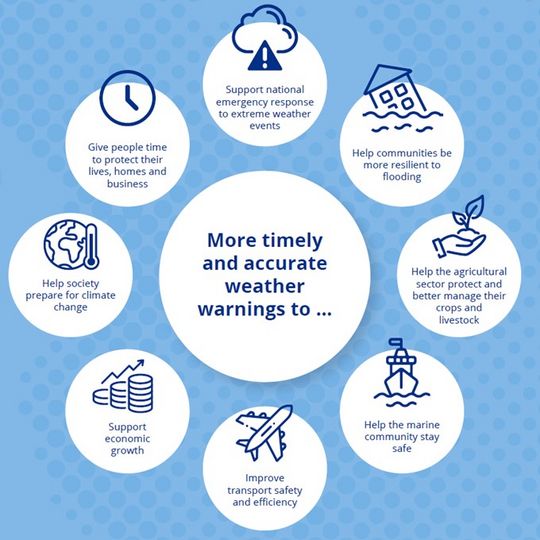 An ambitious and necessary collaboration
The collaboration between the Danish Meteorological Institute, Icelandic Meteorological Office, Royal Netherlands Meteorological Institute and Met Éireann, Ireland's weather service, goes under the name of United Weather Centres West (UWC-West). This is part of a broader collaboration between ten national weather services in Europe, known as United Weather Centres (UWC), which plan to operate a common multi-national weather forecasting system by the end of the decade.
"This collaboration has a long history and specially the collaboration between Denmark and Iceland. It is very important to further the progress in the forecasting systems for Iceland as well as the North-Atlantic region as the IMO is responsible for all weather-related warnings and information for aviation. The IMO is always looking to better it's services to the public and industries in Iceland and this collaboration and the supercomputer is a part of that" says Árni Snorrason, Director General of the IMO.
The new supercomputer can perform 4,000 trillion calculations per second, which is more than half a million calculations per second for every person on the planet. It will handle state of the art weather models with more than 6 million lines of code –the Mars Curiosity Rover was built on 5 million- which will produce high resolution weather predictions every hour, 24 hours per day.
"With the demand of more specific weather forecast we need to pe as prepared as possible as the security of the people and travellers can rely on it. The UWC-West supercomputer is the first step in a powerful collaboration between other weather services in Europe and it is vital that we continue working together to improve our weather forecasts and understanding of how climate change will impact our countries" says Árni.

A sustainable solution
Powered entirely by Icelandic hydropower and geothermal energy sources and taking advantage of the local tempered climate for keeping the supercomputer components cool, the running costs and CO2 footprint will be kept to a minimum, saving tonnes of CO2 in line with the four nations' efforts towards reaching Net Zero.
"As national weather service's we want to show that there are more sustainable options to powering our services and Iceland is the perfect location as we have great accessibility to 100% geothermal energy sources. Due to the location, we can lower the carbon footprint and with that the national efforts to reach Net Zero."