News
---
A new IMO has been launched
Successful merger
A new institute was created 1st January by merging IMO and the hydrology unit of the National Energy Authority. It retains IMO's well known name, the Icelandic Meteorological Office.
IMO's expanded tasks include hydrological monitoring and research as well as the implementation of the EU Water Framework Directive.
Minister of the Environment, Þórunn Sveinbjarnardóttir, held a reception for the combined staff on 8th January, celebrating the new institute.
She payed tribute to Magnús Jónsson's successful management of IMO for the past 15 years. "The institute which he is leaving has exceptional trust and good-will among the nation," she added, wishing him well on a six months research leave in New Zealand. In fact, a survey by Capacent Gallup last year revealed that 90% of the population claim IMO provide good or very good services and that over 60% choose IMO's web-site for information.
Our new Director General, Árni Snorrason, has lead a thorough re-organization of the institute for the past few months, preparing for the manifold tasks at hand.
Minister of the Environment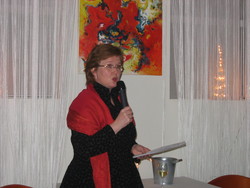 Þórunn Sveinbjarnardóttir gives a speech at the reception. Photo: Guðrún Pálsdóttir
The reception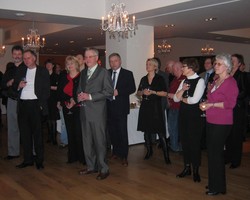 Staff and other guests at the reception. Photo: Guðrún Pálsdóttir