News
---
Updated summary from Bárðarbunga
A summary of seismic activity, written Tuesday evening 19th August 2014 at 20:00
Around 1.000 small earthquakes were detected in the Bárðarbunga region from midnight (18/19) until Tuesday evening 19th August at 20:00. All of them were smaller than magnitude 3 and most were located in the cluster east of Bárðarbunga.
While the northern cluster close to Kistufell has calmed down significantly following the M4.5 earthquake on early Monday morning, event rates in the eastern cluster are still high. Similar to recent days, two pulses of comparably strong seismic activity have been measured between 04:00 and 08:00 this morning, as well as 16:00 and 18:30 in the afternoon. The cluster east of Bárðarbunga continued to slowly migrate northeastwards today. Events are still located at around 5-12 km depths, no signs of upwards migration has been seen so far.
Below is a summary map of all manually revised earthquakes since the onset of the swarm, which illustrates the migration of earthquake activity during the last days. Earthquakes in the map are colourcoded by time, dark blue dots show the onset of the swarm on Saturday, orange dots Tuesday's events until 19:00, light blue and yellow are the days in between. The time scale is days since the onset of the swarm.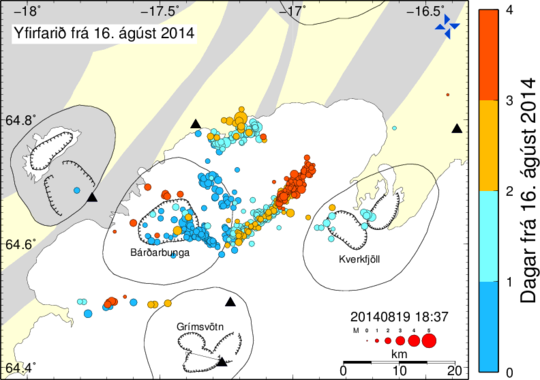 Map by Gunnar B. Guðmundsson, Icelandic Meteorological Office.