News
---
Hard work in harsh circumstances
Enhanced monitoring by Future Volc
16:44 Since the first day of the seismic activity, technical and scientific staff have worked hard under tough circumstances. Long distances have been traversed in specialised vehicles or, when necessary, staff have been transported by the Coast Guard's helicopter. Twice a day, they report to headquarters and their positioning is monitored continually. The equipment which is being mounted must endure harsh environment.
The significant enhancement of monitoring which has taken place was made possible by the European FP7 project, FutureVolc, and by the University of Cambridge who have provided four out of six new seismometers on and around the ice cap.

More photos of fieldwork and the surroundings can be seen in another article.

A small subglacial eruption suspected

As explained in the update article at two o'clock, seismic data indicates a small lava-eruption under the Dyngjujökull glacier. This has not resulted in flooding yet. However, tourists have been guided to leave the relevant area.

No visible changes were seen when the Icelandic Coast Guard airplane TF-SIF flew over the area this afternoon with representatives from the Civil Protection and experts from the Icelandic Met Office and the Institute of Earth Sciences. Data from radars and web-cameras is being received, showing no signs of changes at the surface. The estimate is that 150-400 meters of ice is above the area.
The aviation color code for the Bárðarbunga volcano has been changed from orange to red.
Hamarinn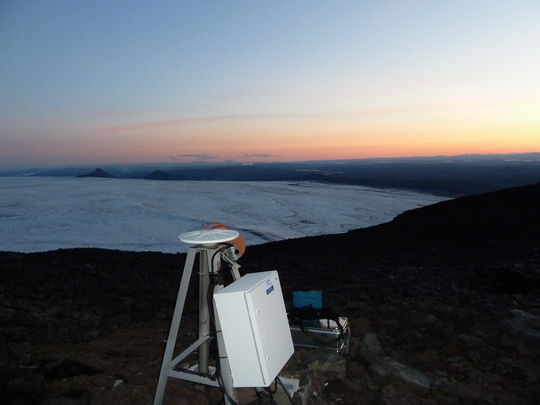 A hard day's night. Enhanced monitoring because of the seismic events in Bárðarbunga. This location is named Hamarinn or The Hammer. Photo: Benedikt G. Ófeigsson, 23rd August 2014.