News
---
Photos from Fimmvörðuháls
The volcanic system Eyjafjallajökull has awoken
The eruption began in Eyjafjallajökull around eleven o'clock on Saturday evening, March 20th. The eruption fissure is about 0.5 km long and is located on the norhern side of Fimmvörðuháls, east of the Eyjafjallajökull ice cap.
Many photographs have been taken since the eruption began, 20th March 2010.
Ólafur Sigurjónsson, who lives in Forsæti III, not far from the activity, flew across the area and took these splendid photographs less than 36 hours after the event began.
For those acquainted with the area, landmarks have been added to one of the photos: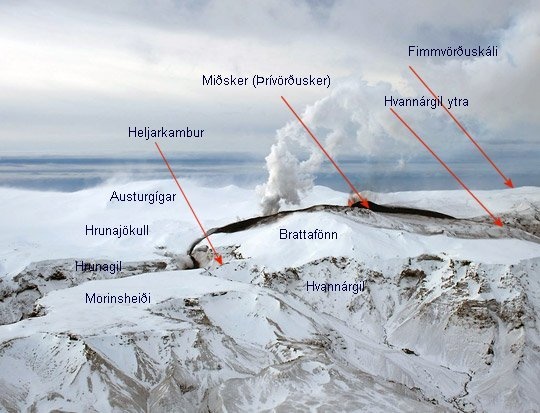 An excursion
Meanwhile, geophysicists from the Icelandic Meteorological Office prepared to approach the event for filming and research. Einar Kjartansson took the following photograph and video later the same day. This exploration was filmed by television RUV. Before the group reached the actual lava, the weather changed and wind gusts were possibly over 40 m/s, whirling ash into the air and blocking further view.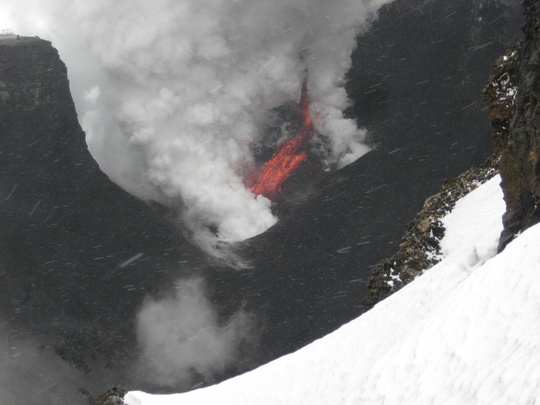 From Heljarkambur, looking down into Hrunagil, 22nd March 2010 at 16:00. Lava flows into the gully. The snow is covered with ash. Photo: Einar Kjartansson.
For comparison, take a look at the same view before the eruption began. The photo below was taken almost three years ago and shows Hrunagil in foggy conditions. It is not obvious, but at the bottom of the gully there is ice, covered in mud, sand and rockfragments. Such ice gives rise to steam plumes, if liquid lava runs down the gully.
Hrunagil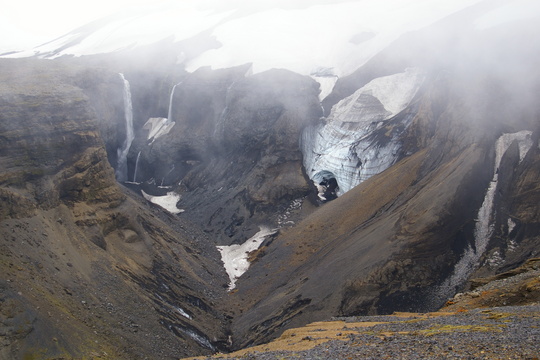 Hrunagil 15th July 2007, just south of Heljarkambur. Mudcovered ice at the bottom of the gully. Photo: Einar Kjartansson.