News
---
An invaluable photo collection
Oddur Sigurðsson's photos of Iceland
Oddur Sigurðsson, geologist and a specialist in glaciological research, has taken striking photographs of the nature of Iceland for decades; both during his career at IMO and at Orkustofnun before that. Amongst them are many arial photographs of the ice-caps and the glaciers and these are an important documentation of the effect of climate change. Oddur has requested that his collection be preserved within an institution which is concerned with the nature of Iceland.
May 15, Oddur Sigurðsson and Árni Snorrason, Dir. General of IMO, signed a contract regarding the preservation, registration and usage of the photo collection at the Icelandic Meteorological Office. The size of the collection is about 55,000 photographs. Glaciers and changes in glacier margins; jökulhlaup, rock formations, volcanic eruptions, ash plumes, mudslides, landslides, lakes, rivers, river floods and waterfalls are amongst the phenomena found in this collection which is all the more valuable for its long time span.
Bird's eye view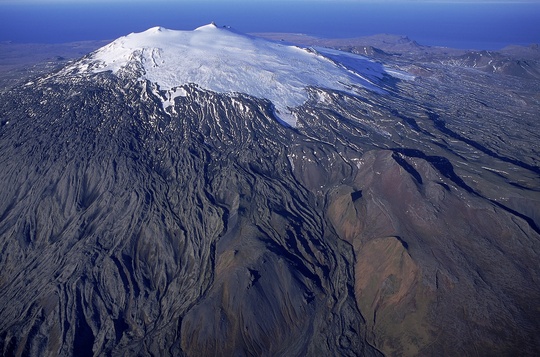 Snæfellsjökull, western Iceland, 18 October 2001. At that time, the ice-cap had already been observed to retreat and thin in the preceding years and decades, as confirmed by annual measurements in a single location since 1931. This was further confirmed
by extensive measurements
in 2008 and the changes have been rapid this century. Snæfellsjökull is not expected to last for long. Conspicuous volcanic formations can be seen on the hillside. The last eruption occurred about 1,750 years ago. The view is towards north. Photo: Oddur Sigurðsson.