News
---
The eruption has come to an end
The volcanic eruption in Holuhraun lasted six months
The volcanic eruption in Holuhraun has come to an END, see a declaration from the Scientific Advisory Board, 28 February 2015.

For the first time in six months, no glow was seen in a flight 27 Feb.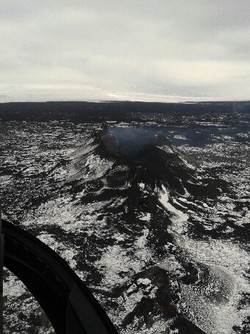 Volcanic gas can still get dispersed all over the country, see a note from meteorologist on duty; emission of gases has not ended, neither from the inactive vents nor the extensive lava field. See how toxic values may actually get higher.

The lava field is 85 km². Its average thickness is 10 - 14 m (max 40 m) and its volume is 1.4 km³. The maximum subsidence of the caldera is at least 61 m but the rate was only 5 cm/day last week, compared to tens of centimetres earlier. The volume of the subsidence is 1.7 - 1.8 km³.
Seismic activity in Bárðarbunga continues to diminish.

Conditions on the eruptive site are still dangerous. Gas emissions at the eruption site and near the lava field are still life threatening.
To the right is a view over the eruptive fissure from a flight 27 Feb. 2015. Photo: Gísli Gíslason.